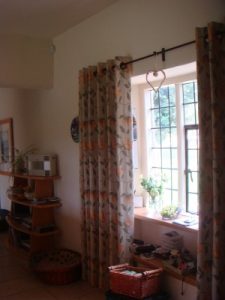 Eyelet curtains provide an elegant solution to many windows. The clean lines complement both a modern décor and a more traditional interior and will stack back neatly, occupying less space than tape or hand-pleated headings, making them an attractive solution where space is at a premium.
Eyelets come in a great variety of colours and a number of different sizes, and can either blend in with the curtain fabric or provide a dramatic contrast.
You will need less fabric overall for eyelet curtains, generally around 1 ½ times the pole length, which can make them an economic as well as attractive proposition.
Eyelets look most impressive and work best on curtains that are made from fairly thick fabric or interlined.
They look particularly good with these poles made by our local blacksmith… 80th birthday this year!
Brian the blacksmith makes curtain poles to order to fit the most awkward doors, windows and bays.