Following a number of tragic accidents where toddlers have died as a result of becoming entangled in blind cords and chains, legislation was introduced in 2014 to try to prevent further loss of life. Older blinds installed before 2014 may not conform to this legislation and we are happy to advise and, if necessary, update fixings to render blinds as safe as they can be.
In the meantime, you should
move children's cots, highchairs and playpens away from blinds with looped cords
use cleats or cord tidies to tie up looped blind cords out of reach of small children
move other furniture away from blinds as small children love to climb
Roman blinds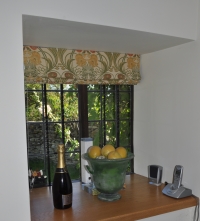 Traditionally, Roman blinds were fixed to wooden battens supported either on brackets or screwed directly to the frame of the window and were raised by cords which were then fastened off on a cleat fixed to the wall.
It is still possible to install blinds in this way, but in order to comply with current legislation, a breakaway has to be installed between the multiple cords to the rear of the blind and a single cord which ends in the cord pull.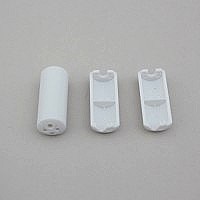 Unfortunately the only breakaway that we have found is not very attractive, being a white plastic cylinder that, as the name suggests, breaks apart when subjected to excess weight. It is also rather fiddly to reassemble once it has broken apart.
All the cord must be accommodated onto a cleat or cleats when the blind is raised and the cleat must be no nearer than 150cm to the floor.
Sidewinder system
There are various alternative headrails on the market which are operated by a chain, with the rear cords wound up onto spools contained within the headrail. The one we use has a cog which drops out of the mechanism if excess weight is applied to the chain. It is, in our opinion, one of the best on the market. The one limitation on this type of headrail is that the bottom of the chain can be no closer than 60cm to the floor. This will not be a problem with most windows but can prohibit use in older properties with dormer windows close to the floor.
Electrically operated blinds are a further alternative and these are gradually coming down in price as they become more popular. These can be battery operated or hard wired.