When choosing the heading for your curtains, you have to take the fabric into consideration.   If the fabric is patterned, whether printed, woven or embroidered, the heading can make an immense difference to the way the pattern is displayed.   If you choose hand-pleated headings, we will ask whether you would like the curtains pleated to pattern.   This is because most fabrics have a pattern that repeats across the width of the fabric and, when the curtains are open, different parts of the fabric will be visible while others disappear.   If the fabric is pleated to pattern, the same part of the pattern will show on each pleat or every other pleat.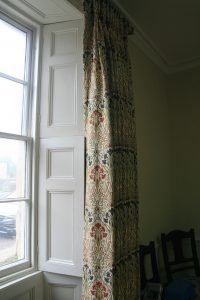 In this lovely house in Burford, the same fabric in different colourways was used for both the drawing room and kitchen.
The drawing room curtains were pleated to pattern with triple pinch pleats.   The curtains stack back neatly and provide a lovely formal frame for the shuttered windows.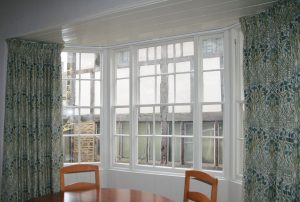 In the kitchen, where a less formal look was needed, the curtains have a pencil pleat heading with a small stand-up frill to hide the ceiling fixed curtain track.